Academia Barilla ambassadors of the Italian cuisine
They are the culinary expression of Academia Barilla, attentive interpreters of the Italian cuisine and meticulous connoisseurs of the culinary techniques, ingredients and trends that range from our Italian essence to the story of other gastronomic traditions. We present our Chefs.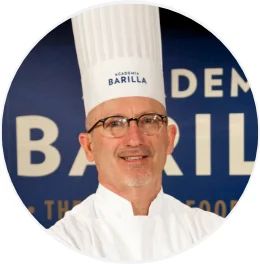 ROBERTO BASSI
Graduated in Hotel Management Techniques, Roberto Bassi has worked as a kitchen chef for several years, developing his professional career and background in Italy and abroad between London, Paris, Venice and New York, passing from the Savoy in London to the two-star San Domenico in Imola.
He has been working for Barilla since 1988, initially as the Chef Division Manager in the Research & Development sector, then as global gastronomic reference supporting external Relations, Academia Barilla and Marketing teams for the creation and planning of gastronomic initiatives around the world. Today, Roberto Bassi is the Barilla Executive Chef and Global Culinary Services Manager.
Bassi is a teacher and trainer involved in organising seminars and a passionate supporter of sustainable cuisine. He provides culinary and management support for events, as well as writes articles and thematic insights.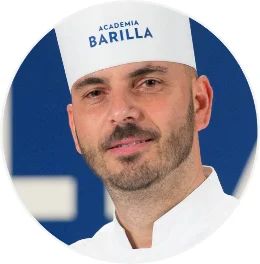 MARCELLO ZACCARIA
Marcello Zaccaria has been working as a Chef for Barilla Group since 2001. His career includes extensive experience in Italian and foreign restaurants, from Tuscany to Switzerland, up to an important position in Japan.
Namely, as part of Academia Barilla he takes care of organising and setting up various activities: cooking courses and product presentations at trade fairs, Gala Dinners and Pasta Parties. A member of the Italian Federation of Chefs, in 2016 he became an international Ambassador of Italian cuisine and in 2018 he joined the panel of the "Superior Taste Award" on behalf of the International Taste & Quality Institute in Brussels.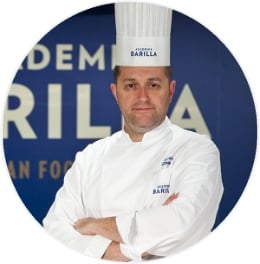 LUCA ZANGA
Luca Zanga has been a chef at Academia Barilla since 2010. He started his professional training in 1994, when he graduated from the Istituto Alberghiero Mellerio Rosmini, a catering college in Domodossola. This marked the beginning of his growth phase, which, at first saw him gain experience in restaurant kitchens in his native region, and then further afield in the Island of Elba, Rome and Sestriere. These experiences have allowed him to learn new techniques and discover new ingredients and different approaches to cooking, and have given him the chance to gain the valuable cultural background that he brings back with him every time he returns home, an area known for its three beautiful lakes.
Luca is a young man who loves to observe, learns carefully, tries and experiments. Luca never stops and continues to gain experience in restaurants overlooking Lake Mergozzo and Lake Orta where, in 1997, but also later in 1999, he worked alongside Michelin-starred chef Antonino Cannavacciuolo, and had the pleasure and honour of seeing Villa Crespi being born.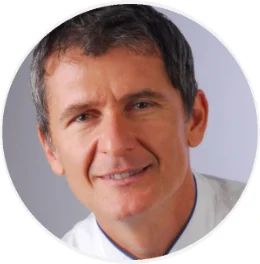 LORENZO BONI
Born in Bologna, Lorenzo Boni is a Chef who grew up in the heart of the typical culinary tradition of Emilia Romagna.
Since childhood his passion for cooking drove him to study the Italian regional gastronomic traditions and to experiment with new approaches, also through numerous experiences in fine dining restaurants, before arriving to United States.
In 2003 he became Executive Chef of Barilla America as the company's Ambassador, supporting all his initiatives to promote Italian gastronomic culture throughout the American continent, from Canada to Brazil.