Lorenzo Cogo: the "Instinctive Cuisine" of a chef always in motion
"Cooking chose me, it was in my destiny"
Can a ten-year-old child already know what he wants to do in life? The answer is yes, if that child is Lorenzo Cogo, owner and chef of the "El Coq" Restaurant in Vicenza. A child prodigy now grown up, who eagerly holds on to the source of that creative juice to express it in a more mature and aware way. For him cooking has been an ancestral call, a connection impressed on his soul from childhood that matured and evolved along with him.
"Cooking chose me, it was in my destiny – says Lorenzo Cogo – I come from a family in the restaurant business and I grew up observing my father's work in the kitchen. This is how I started on my path, then I took an extremely personal route that represents better who I am".
And fate it was, given that the name "Cogo" in the local dialect means "Cook". And it was also a passion that emerged forcefully, which Lorenzo decided to listen to.
"When I was seven years old I asked my mother at a flea market to buy me a professional cook book, titled "International Cuisine". Only years later, leafing through it, I realized that what I was holding in my hands, chosen among so many books, would turn out to be my future".
"I believe one needs to give always 100% in this job, it's important to know how to follow its rhythm. Maybe I started with a more sustained pace because age was on my side, then I made an effort to figure out how to make it concrete and stable".
Lorenzo Cogo's experiences started very early on. He first worked in local venues on weekends, and approached cooking later on.
"I was fourteen when I started. I wanted to be independent, I've always preferred to go out and follow my own way. This allowed me to understand how running a restaurant really works, why my father reproached me about certain aspects. I also realized my luck of having had an early training at home, which brought me to understand ahead of time and identify my own attitudes. This made up for at least 10 years of work and study".
When it comes to this young chef's career, he's definitely one step ahead of his time. An evolving path that defines Lorenzo's personality and his way of cooking, adjusting to changes.
"When I opened "El Coq", I followed the social trend that labels restaurants pegging them in well outlined frames. But, somehow, I had to protect myself, therefore I decided to define my cuisine as "Instinctive Cuisine", an expression with no specific parameters that changes following instinct. I am never content, what I feel from my cuisine is its constant state of evolution, but I believe that it is also interesting for the customers that won't get bored and can try always unexpected proposals. My dishes are not designed to transmit a sense of security, they develop as part of a tasting journey that may deliver a gustatory slap at first, and then it caresses the palate with more balanced aromas".
Monotony is banned from his restaurant, the aspiration is constant transformation, definitely proved by the absence of a menu card.
"If I am living the moment, to me it has already passed. Sometimes I step away from the world because I have a thousand things on my mind, because my head is constantly creating, thinking and moving forward".
The common thread is changes and new things, while keeping some solid points. Pasta is one, it is always present in the kitchen at "El Coq" and the Bistrò Garibaldi, the chef's latest creation.
"To me pasta is an element that can never be missing, neither in everyday life nor in the structure of a menu. I have been preparing fresh pasta since I was a child, it's an element that I cannot do without because it is a feature of our being Italians and it must represent us in the world. I thank that as Chefs we have the responsibility to carry a message of quality and product".
At this time, Lorenzo feels he's entering a more mature, thoughtful phase: "At the beginning I felt like I needed to make a splash, step out from the choir. Today I need to be more focused elsewhere, define what is important for me and decide my next steps, to make sense out of where I am now and where I am going to be tomorrow".
It means changing, going back in a personal way to a direct relationship and dialogue with the customers. "El Coq" aims to recover the welcoming atmosphere of the old fashion restaurants, but with a refined culinary proposal. "What's important is the atmosphere we are able to create, the customer's feeling to be unique. This is my focus, what I want to linger on. Let's say that I am beginning to get what I wish".
And the youngest Michelin starred Italian chef, awarded to him when he was only 25, continues on his personal journey by promoting other young talents through his many activities. In one of such activities, he has been member of the jury – and co-presenter in the 2019 edition – of the Pasta World Championship, a worldwide culinary competition for young promising chefs who compete for the title of Master of Pasta.
By Chiara Marando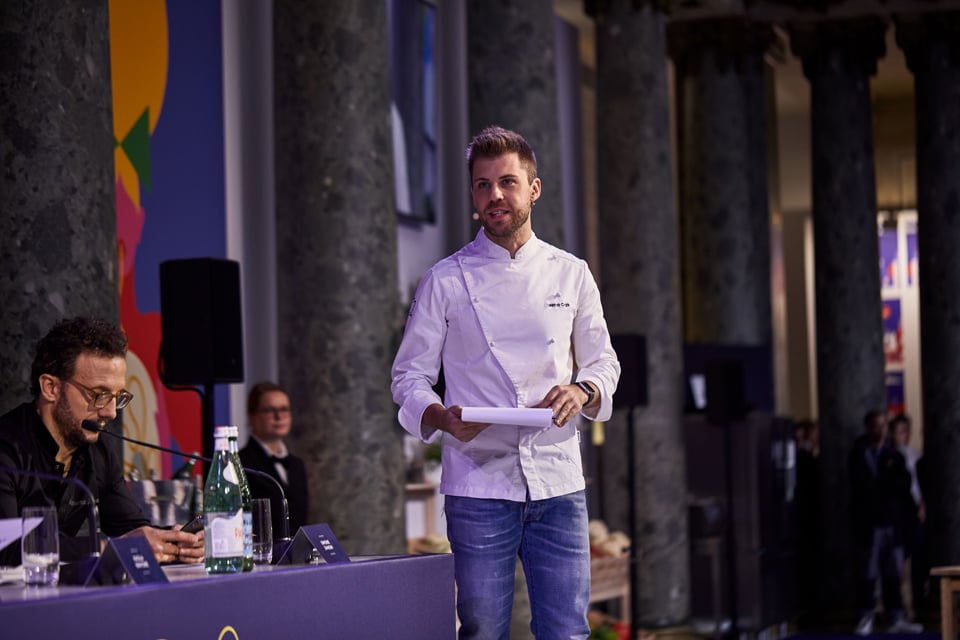 "What's important is the atmosphere we are able to create"