Food news
TRENDS AND FUTURE OF FOOD
FOOD IS A CONVERSATION
Barilla celebrates the 10th anniversary since the Mediterranean-Diet became part of the UNESCO heritage
Discussing healthy eating, making informed choices for the present and future: Barilla and the Future Food Institute have begun celebrating the 10th anniversary of the Mediterranean Diet, which has been recognised by UNESCO as an Intangible Cultural Heritage of Humanity, with a talk focusing on a healthy lifestyle, in which food plays a key role in achieving the right psychological and physical balance, as well as being sustainable, therefore contributing to our planet's well-being.
The digital masterclass was a proper tribute to the Mediterranean Diet, namely the "Recipe for well-being", and provided an insight into the topic as well as a platform for experts to exchange views. As studies show, because of the key ingredients that make up the Mediterranean Diet, adopting it could help us to reduce global warming by up to 15% by 2050.
This is yet another step in the journey that Barilla has embarked on, aimed at making and sharing new considerations on the significance of food, not only with respect to individuals' lives, but also from a global perspective to understand and be aware of its value. This journey will end on 25 October, on the occasion of World Pasta Day.
Participants of the talk included Sara Roversi, Founder of the Future Food Institute, who acted as moderator; Mariangela Rondanelli, Associate Professor of Applied Dietetic Sciences and Techniques at the University of Pavia; Josè della Rosa, Gastronomy Scientist of the Future Food Institute; and Marcello Zaccaria, Executive Chef of Academia Barilla.
The topic of conversation revolved around Chef Zaccaria's recipe: "Mezze Maniche pasta with a creamy chickpea, rosemary and monkfish sauce", a dish that has become a symbol of the Mediterranean Diet for its preparation and the raw materials used.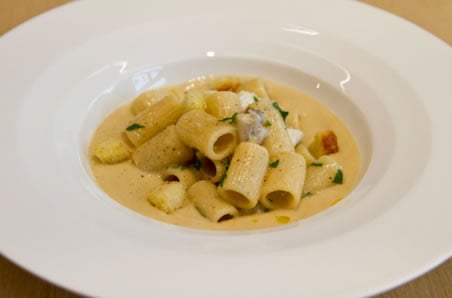 "We decided to make this recipe to celebrate the 10th anniversary of the Mediterranean Diet, since it gives us the opportunity to apply its core principles effectively and tangibly – explained Marcello Zaccaria .
"The Mediterranean Diet is frequently associated with the consumption of cereals. Over the last few months of lockdown, this ingredient has become more important than it used to be,' Mariangela Rondanelli pointed out. 'People started making homemade pasta, pizza and bread, and it has quickly become an exciting daily activity that has allowed us to socialise again and rediscover the pleasure of cooking".
And speaking of socialising, Professor Rondanelli emphasised the fact that the Mediterranean Diet is based not only on ingredients but also on relationships: "In addition to the purely nutritional elements, at the base of the food pyramid of the Mediterranean Diet lies another aspect, that of human relations. Conviviality, which involves enjoying and sharing good food with our loved ones, is also an essential well-being experience in its broadest sense.
As Sara Roversi pointed out, nutritional awareness involves making food choices: "During the current crisis, we have also realised how important Italian agriculture and products are, as well as the quality of the raw materials we eat.
"Food is like a dance, a coordinated and harmonious dance of molecules that are ultimately responsible for the taste, aroma and texture of food, and even for its nutritional properties and its effect on the environment. This is why we speak of sustainability, of how sustainable an ingredient is" – this is the vision of Josè della Rosa.
Sara Roversi concluded that, after all, the right recipe can reflect the choices we make in the kitchen, as it is the driving force that "allows us to understand that in order to have a better future, a better planet and to live healthily in a healthy environment we must start with food, with our everyday choices".
This explains why the Mediterranean Diet is considered a combination of a dietary lifestyle and daily habits, allowing us to take a more informed approach to well-being and sharing.