A BEAUTY PLATING LESSON BY CHEF LORENZO BONI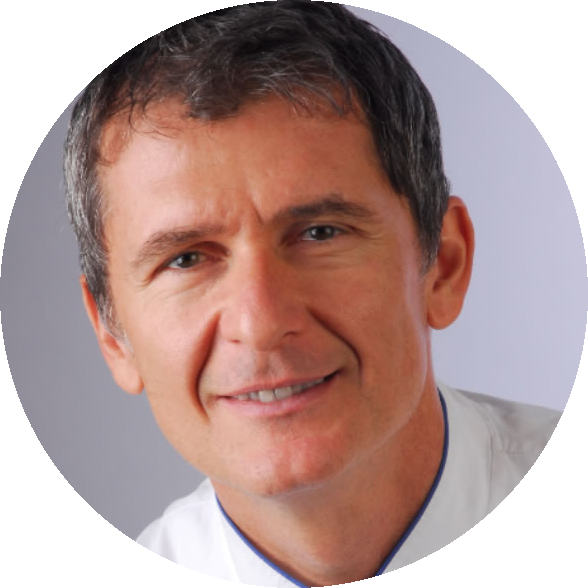 LORENZO BONI
Born in Bologna, Lorenzo Boni is a Chef who grew up in the heart of the typical culinary tradition of Emilia Romagna.
Since childhood his passion for cooking drove him to study the Italian regional gastronomic traditions and to experiment with new approaches, also through numerous experiences in fine dining restaurants, before arriving to United States.
In 2003 he became Executive Chef of Barilla America as the company's Ambassador, supporting all his initiatives to promote Italian gastronomic culture throughout the American continent, from Canada to Brazil.
LINGUINE WITH GARLIC, OIL, CHILI PEPPER AND AROMATIC HERBS
CHEF'S TIPS
In this Italian traditional recipe, the classic plating of the braid-shaped linguine brings a particular harmony to the dish. To make it, simply use a fork to shape the pasta and obtain the desired effect.
In addition, the wise use of aromatic herbs helps to renew the taste of the traditional recipe "garlic, oil and chili pepper", giving each bite lively and tantalizing chromatic notes of flavor.
A tasty idea to surprise both palate and eyesight.
Preparation
INGREDIENTS FOR 4 SERVINGS
8.47 oz Barilla Linguine
1 clove of garlic, chopped
40 ml extra Virgin Olive Oil
1 sprig of marjoram
1 sprig of dill
1 sprig of parsley
3 leaves of basil, chopped
fresh chili pepper (t.t.)
Salt (0.25 oz per lt of cooking water)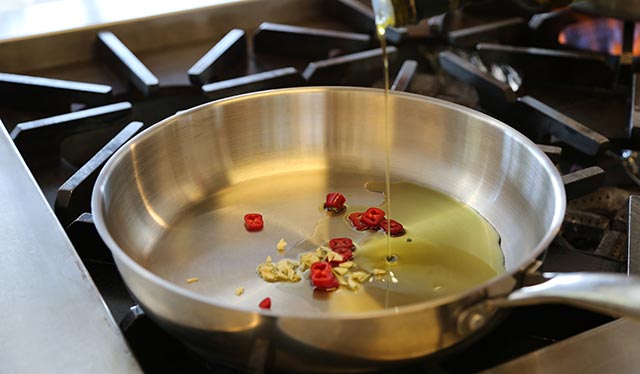 Bring to boil a pot of salted water, cook the pasta following indications and time on the package. In the meantime, put garlic, chili pepper and half of the olive oil in a pan; sauté slowly on low heat.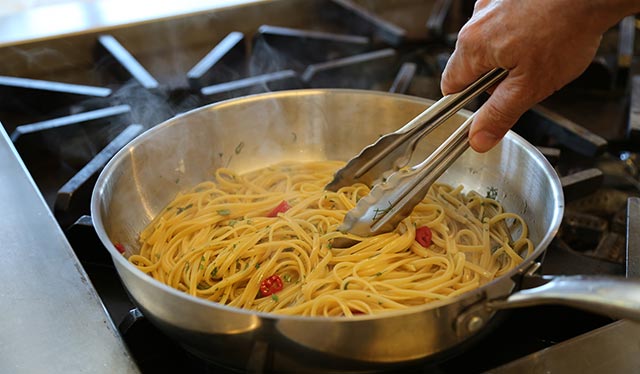 Then brown garlic for about a minute, add a ladle of cooking water, drain the pasta (al dente) and add it to the pan. Then add the aromatic herbs chopped, leaving a few sprigs aside for the final decoration; complete with the remaining olive oil.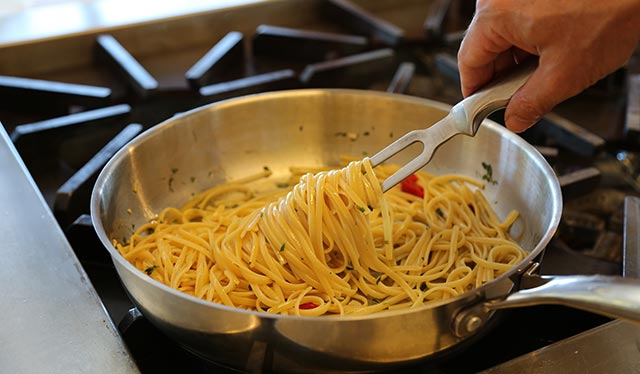 With the help of a long fork, proceed with the plating creating a braid laying it horizontally on the plate.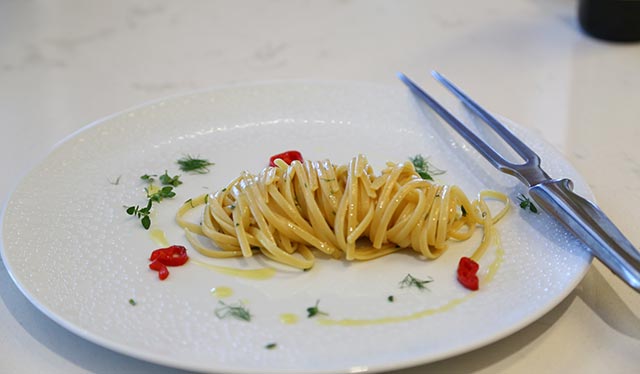 Pour a drizzle of extra virgin olive oil on the linguine and on the plate as a decoration element. Finally garnish with the remaining aromatic herbs, arranging them according to your creativity, to create a harmonious composition.