A BEAUTY PLATING LESSON BY CHEF LUCA ZANGA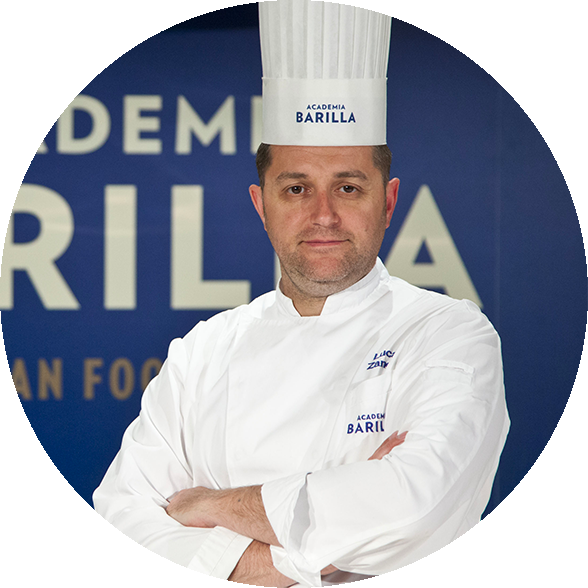 LUCA ZANGA
Luca Zanga has been a chef at Academia Barilla since 2010. He started his professional training in 1994, when he graduated from the Istituto Alberghiero Mellerio Rosmini, a catering college in Domodossola. This marked the beginning of his growth phase, which, at first saw him gain experience in restaurant kitchens in his native region, and then further afield in the Island of Elba, Rome and Sestriere. These experiences have allowed him to learn new techniques and discover new ingredients and different approaches to cooking, and have given him the chance to gain the valuable cultural background that he brings back with him every time he returns home, an area known for its three beautiful lakes.
Luca is a young man who loves to observe, learns carefully, tries and experiments. Luca never stops and continues to gain experience in restaurants overlooking Lake Mergozzo and Lake Orta where, in 1997, but also later in 1999, he worked alongside Michelin-starred chef Antonino Cannavacciuolo, and had the pleasure and honour of seeing Villa Crespi being born.
TORTIGLIONI WITH DUCK RAGOUT, SOFT BUFFALO MOZZARELLA AND TOMATO GEL
CHEF'S TIPS
A rich pasta recipe with a full taste, with contrasting textures and intense flavours.
To add an extra touch of colour, the chef recommends garnishing the dish by adding a drizzle of balsamic vinegar on the side, almost as if to create a small frame for the pasta.
Not only that, lightly grating citrus fruits such as lime or orange will add extra flavour and fragrance that can be enjoyed with each bite, enhancing the ingredients of the dish. The only thing that you must make sure not to do is grate the white part of the peel as well since it is best to leave out the bitter part.
In order to enhance the final result, and not to make the composition look over the top, it is best to use a dish with a white background.
Preparation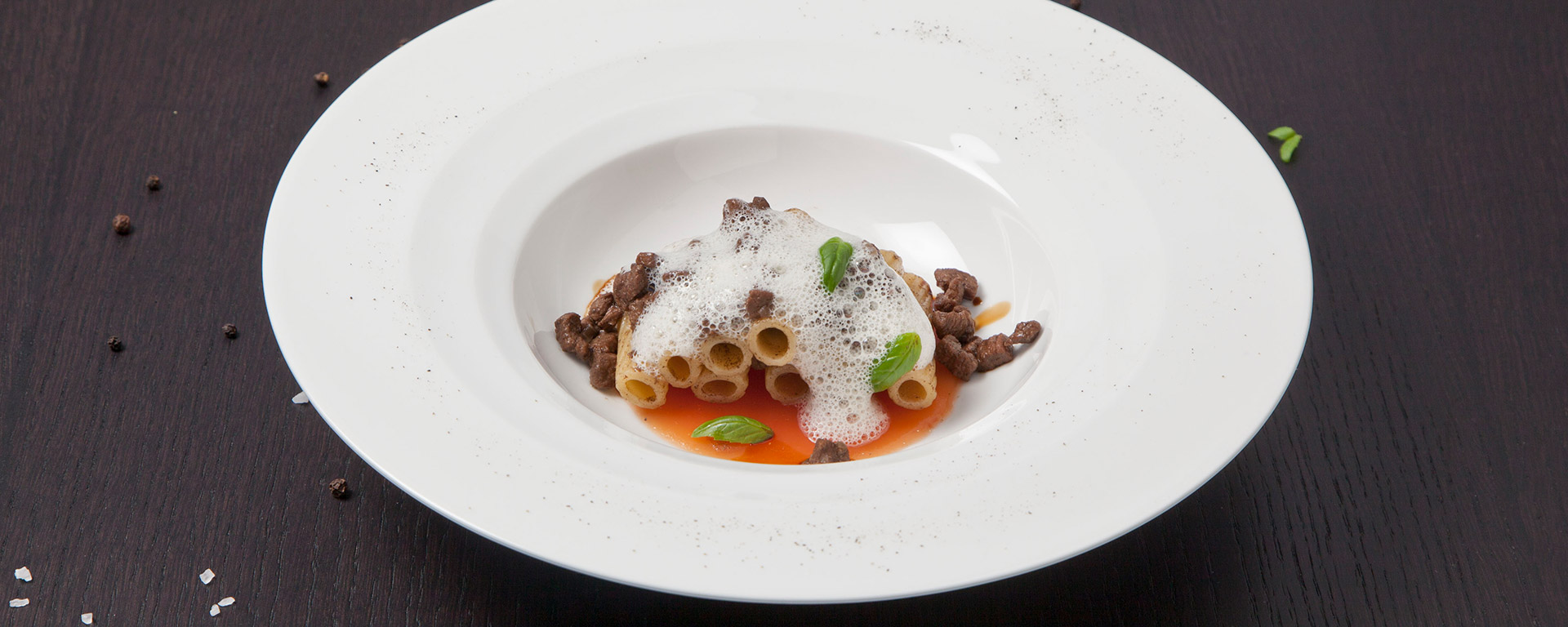 INGREDIENTS FOR 4 SERVINGS
8.4 oz Barilla Tortiglioni
8.8 oz Duck breast
1 shallot
salt to taste
pepper to taste
red wine to taste
1.7 oz balsamic vinegar
extra virgin olive oil as needed
Tomato gel:
35 oz vine tomatoes
0.5 oz salt
0.5 oz sugar
0.17 oz Agar-agar (per 0.52 pints of liquid)
Soft mozzarella:
5.2 mozzarella from Campania
5.2 oz water (from the same mozzarella)
0.5 oz soy lecithin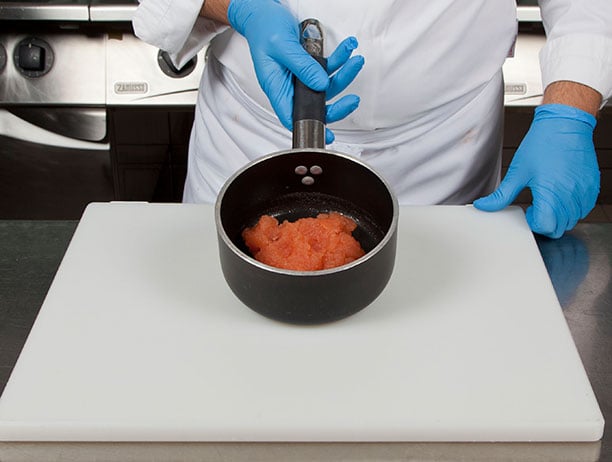 Tomato gel:

Wash the tomatoes, cut them into 4 parts and put them in a salad bowl, then add salt and sugar, cover them and leave to macerate in the fridge for a day. After maceration, blend the tomatoes and pass them through a fine-meshed sieve to obtain their liquid. Put the liquid from the tomatoes in a saucepan and bring to the boil, add the agar-agar and let it melt. Pour everything into a baking pan and leave to cool in the fridge, until a jelly consistency is obtained.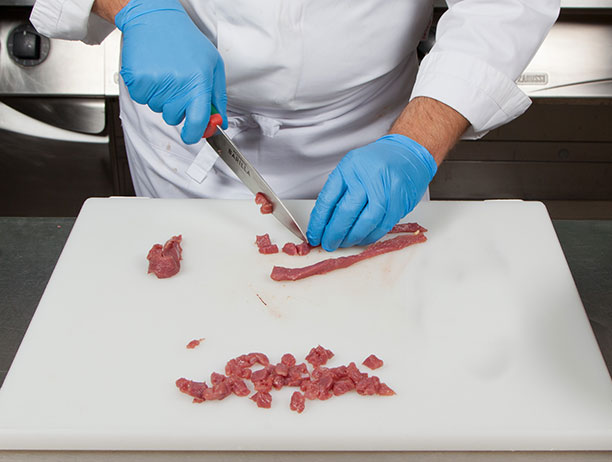 Duck ragout:

Cut the duck breast into small cubes. Finely chop the shallot. Heat up a frying pan with a drizzle of oil, add the shallot and brown it; when it is golden, add the meat and brown it on high heat, add the wine, salt and pepper and let it cook for about 10 minutes, adding the balsamic vinegar at the end.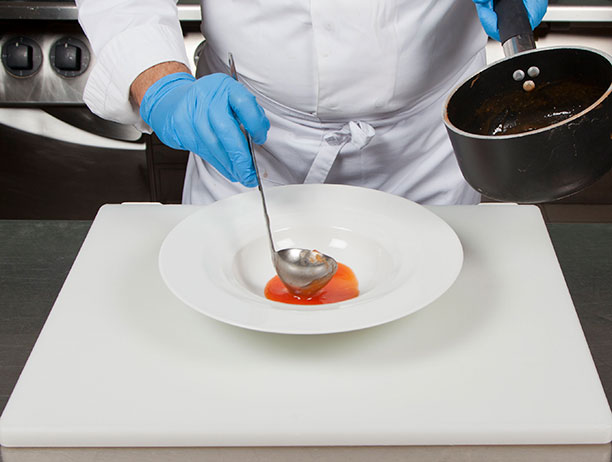 Cook the pasta in plenty of boiling salted water; in the meantime, melt the tomato gel by heating it and, when ready, pour a ladle of it into each serving dish. When the pasta is cooked, drain it in the duck ragout, mix it all together and start preparing the soft mozzarella by blending the mixture.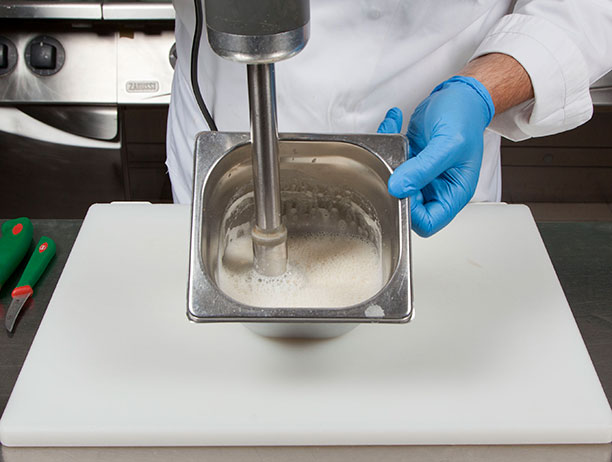 Soft mozzarella:

Blend the mozzarella with its water and then pass it through a sieve; add the soy lecithin to the liquid obtained, then blend with an immersion blender until frothy. This preparation will have to be done at the last minute before dishing it out.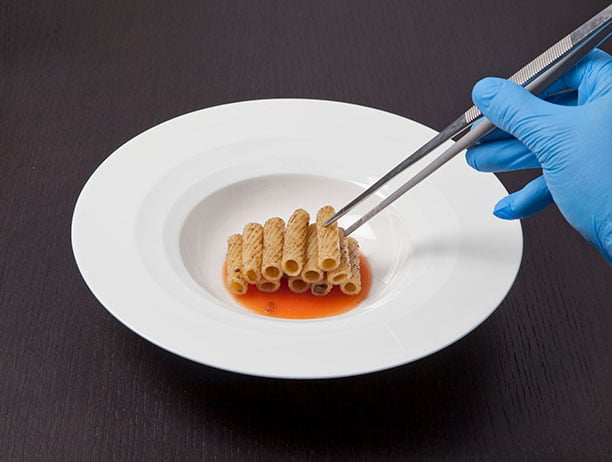 Using tongs, place the dough on top of the tomato gel and, finally, add the last touch with the soft mozzarella. Garnish with a few basil leaves.