A BEAUTY PLATING LESSON WITH STARRED CHEF LORENZO COGO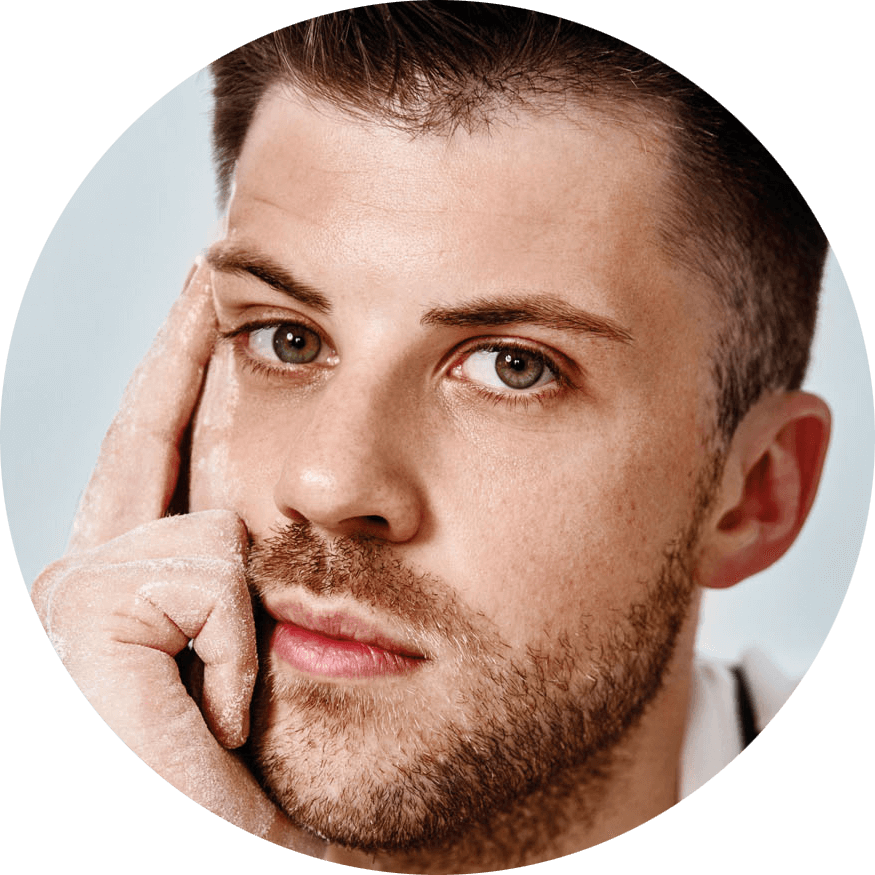 LORENZO COGO
Lorenzo Cogo, owner and chef of "El Coq" Restaurant in Vicenza is an enfant prodige child prodigy prized with his first Michelin star at only 25 y.old. He claims his cooking philosophy as an "Instinctive cuisine".
To him, pasta is an element that can never be missing, neither in everyday life nor in the structure of a menu.
WHOLE GRAIN PENNE RIGATE WITH PARSLEY PESTO, STRACCIATELLA DI BUFALA AND GREEN BEANS.
CHEF'S TIPS
Almonds and pistachio adds high gastronomic value to homemade Pesto.
Using aromatic herbs, such as thyme, to plate a recipe enhances the presentation and bestows an original Mediterranean flavor.
Preparation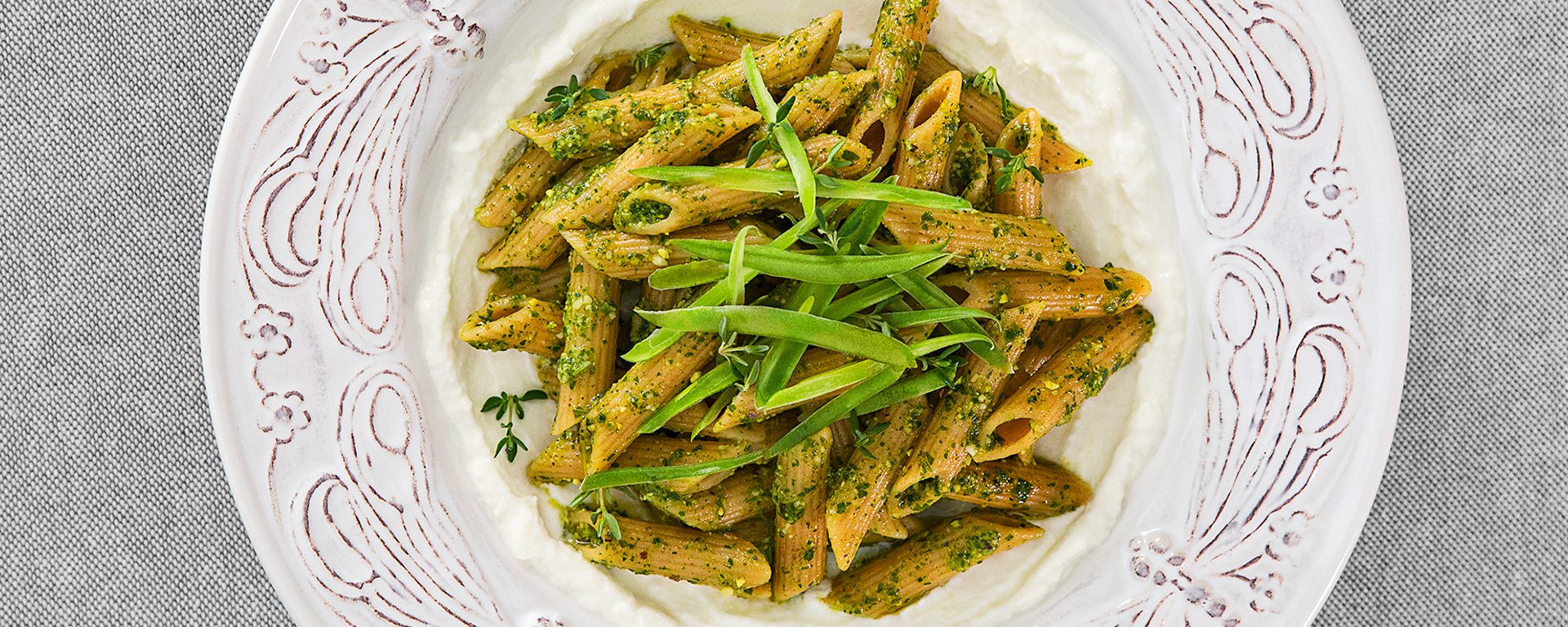 INGREDIENTS PER 4 SERVINGS:
8.5 oz of Barilla Wholegrain Penne
3.5 oz of parsley
1 oz of grated Parmigiano Reggiano
2 anchovies
40 ml of extra virgin olive oil
2 tbsp of pistachios
20 tbsp of almonds
2 oz of stracciatella di bufala
4 raw green beans
Thyme leaves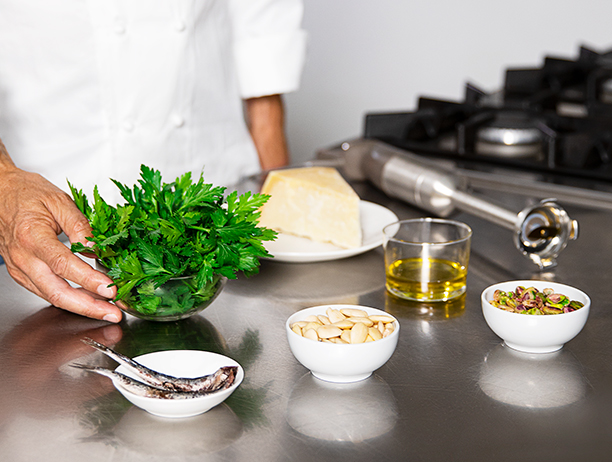 Prepare the parsley pesto. Chop the parsley with the Parmigiano Reggiano cheese, the anchovies, 3 tbsp olive oil, pistachio and almonds.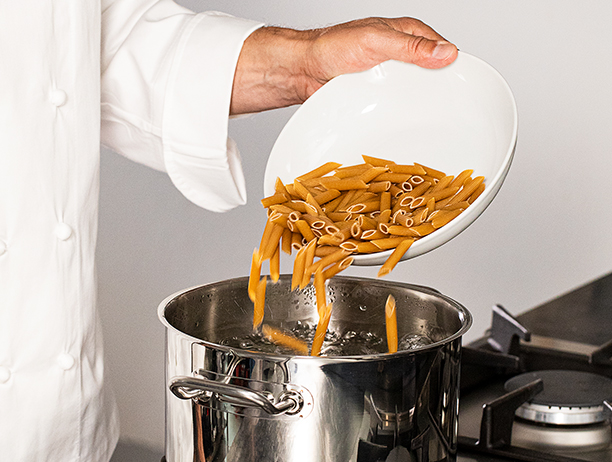 Cook 8.5 oz Barilla Whole grain Penne in salted boiling water for 6 minutes, making sure that it is al dente when ready to drain.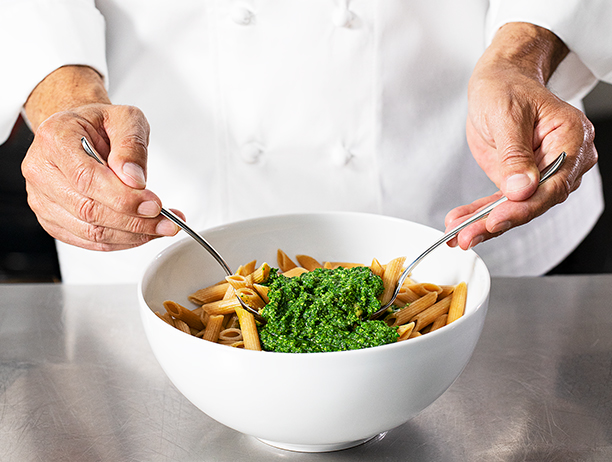 Once the pasta is cooked, add the pesto and blend with a little of the cooking water or vegetable stock to obtain a creamy sauce.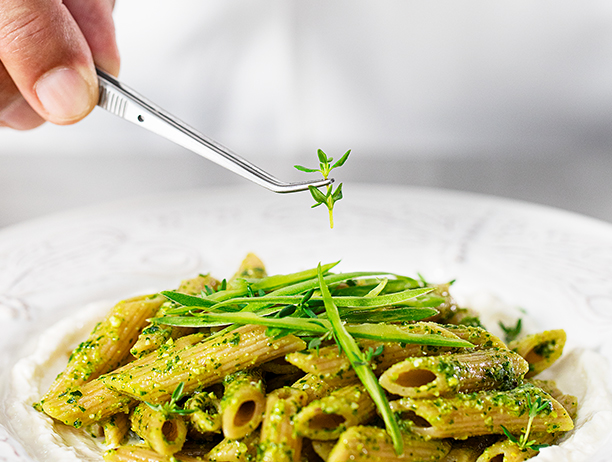 Set 2 oz Stracciatella di Bufala cheese on the bottom of each serving plate then top with the pasta. Cut 4 raw green beans into julienne strips and use them to finish each plate. Add the thyme leaves to decorate.