A BEAUTY PLATING LESSON BY STARRED CHEF LORENZO COGO
WHOLE GRAIN PENNE RIGATE WITH PARSLEY PESTO, STRACCIATELLA DI BUFALA AND GREEN BEANS.
Essential tools
Hand-held mixer.
Kitchen tweezers traditional design.
Serving dishes
The purity and simplicity of ingredients from nature inspire us to use rustic or materic tableware, and they will be enhanced by the contrast with neutral colors.
Useful tips
Using almonds and pistachio adds high gastronomic value to homemade al pesto;
Using aromatic herbs, such as thyme, to plate a recipe based on genuine ingredients enhance the presentation and bestows an original Mediterranean flavor.
Preparation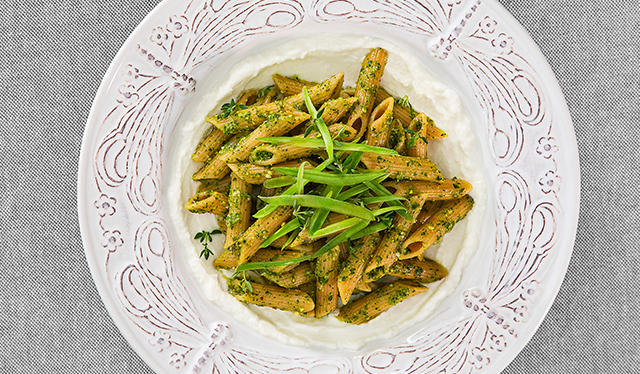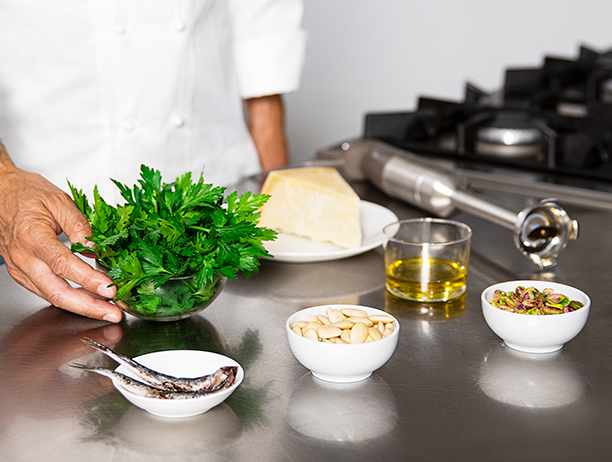 The first recipe we propose is by young starred Chef Lorenzo Cogo, from El Coq restaurant in Vicenza, which fully embodies the inspiration on which "instinctive cuisine" is based. In this preparation, using the best ingredients of the vegetable garden blends with the flavors and aromas of the spices, creating interesting taste variations. Preparing the parsley pesto. Chop 3.5 oz parsley with 1 oz Parmigiano Reggiano cheese, 2 tbsp anchovies, 3 tbsp olive oil, 2.5 tbsp pistachio and 2.5 tbsp almonds.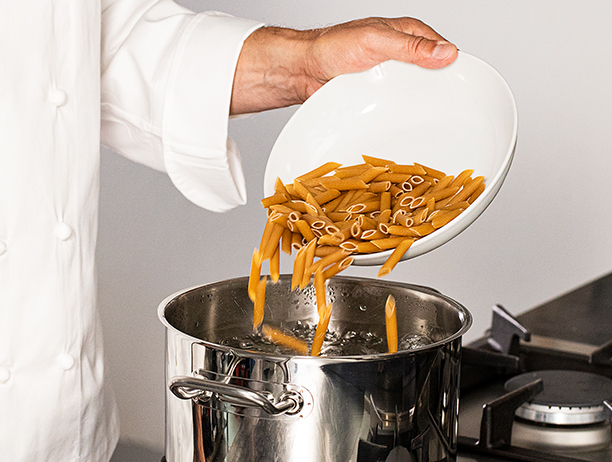 Cook 8.5 oz Barilla Whole grain Penne in salted boiling water for 6 minutes, making sure that it is al dente when ready to drain.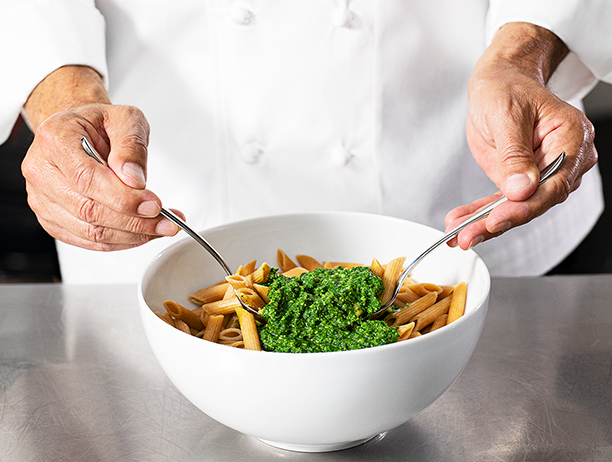 Once the pasta is cooked, add the pesto and blend with a little of the cooking water or vegetable stock to obtain a creamy sauce.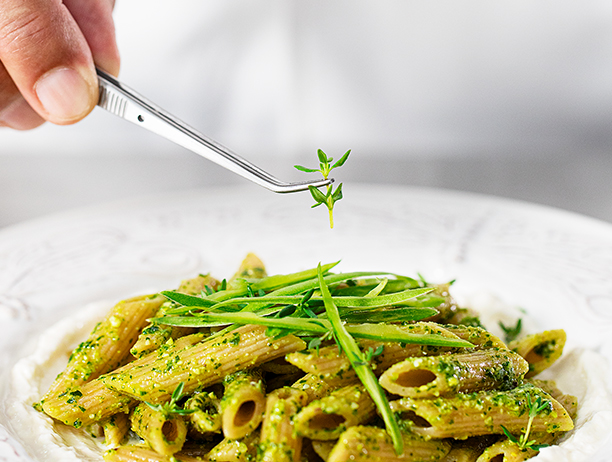 Set 2 oz Stracciatella di Bufala cheese on the bottom of each serving plate then top with the pasta. Julienne cut 4 raw green beans and use them to finish each plate. Add thyme leaves as decoration.