By now, we all know how important it is to include five portions of fruit and vegetables in our daily diet. It is a good habit that is even healthier for us if we choose seasonal produce: this means that we can savour fruit and vegetables when they offer their best flavour, quality and organoleptic characteristics.
WHY CHOOSE SEASONAL PRODUCE
We may not think about it often, but fruit and vegetables grown and ripened in their native soil are much richer in nutrients than those grown in greenhouses. Moreover, the only alternative is for non-seasonal produce to be imported from distant countries and shipped, which can sometimes be a lengthy and costly process, thereby causing harm to the environment and the loss of nutrients and vitamins due to the extra time that passes between harvesting and consumption.
MORE SEASONAL FRUIT AND VEGETABLES, GREATER SAVINGS
Today, we no longer have the patience to respect the seasonality of produce so that we can savour all the fruits that nature has to offer at different times of the year. We can simply go grocery shopping and find everything we are looking for: we can find strawberries or cherries for sale in winter and oranges in summer. However, this kind of produce is usually very expensive, often flavourless and lacks the nutritional properties it should have.
In short: eating seasonal fruit and vegetables ensures more flavour, improves health and costs less to purchase.
VARIETY AT THE TABLE: FUN AND WELL-BEING
The "variety" factor must always be kept in mind. Eating a variety of different foods is extremely important for our well-being, but also to "enjoy" a healthy diet, and we are able to do this easily by always purchasing seasonal produce.
ON THE TABLE ALL YEAR ROUND: WHICH PRODUCE TO CHOOSE
Seasonality is the watchword, but we should bear in mind that, since there are many different climates throughout the Italian peninsula, there are foods and vegetables that are naturally available all year round: carrots, lettuce, potatoes, peas, beans or lentils.
Below is a summary table showing the vegetables available throughout the four seasons in all Mediterranean countries.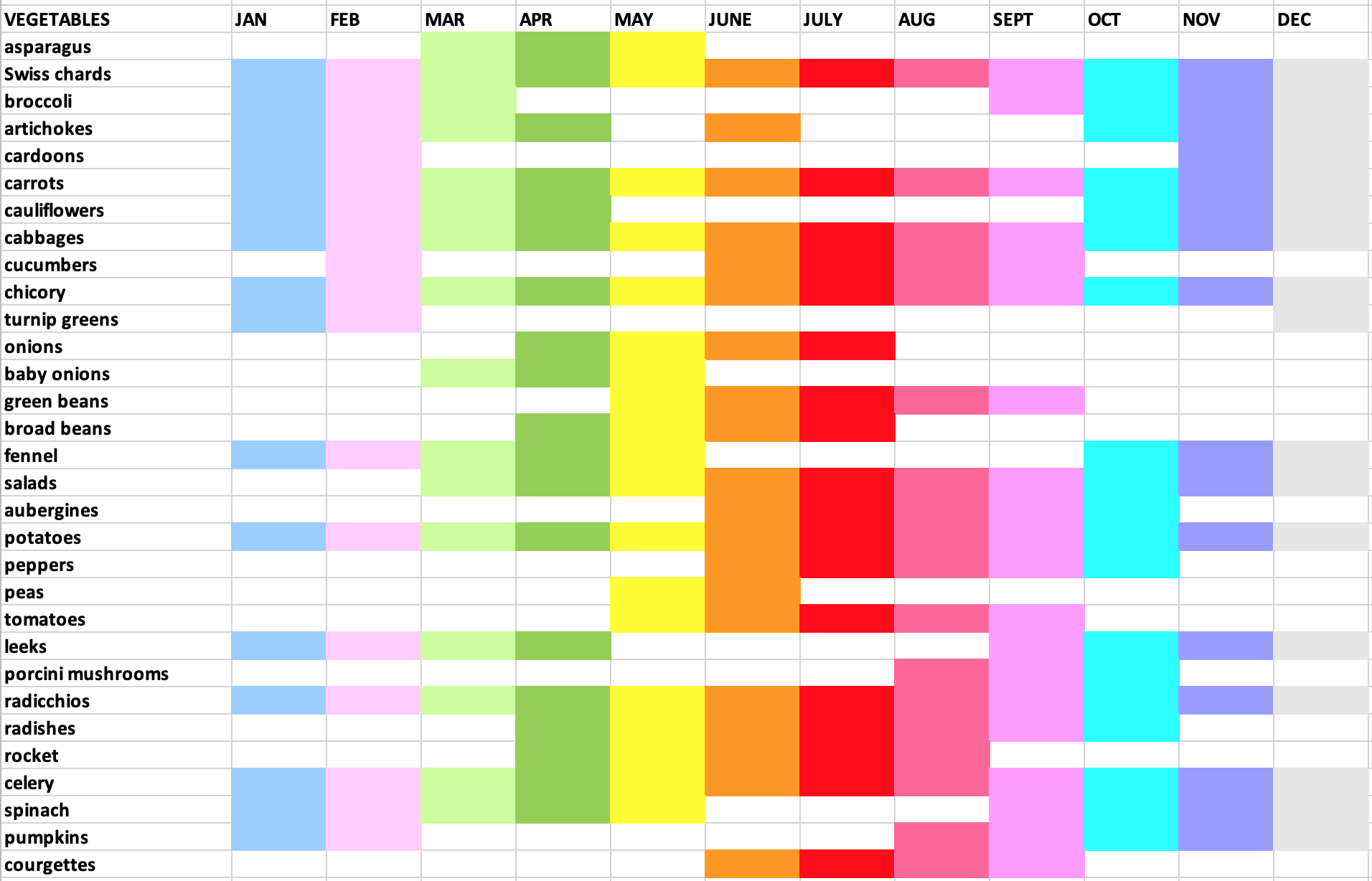 Now try out the delicious recipes with seasonal vegetables created by our Chef Luca Zanga:
Whole grain spaghetti alla norma

Spaghetti integrali con pesto rustico ravanelli e topinambur

Pink penne with nuts and parmigiano reggiano rinds

Pasta with spring vegetables

Rigatoni with pistachio peas and basil pesto