A BEAUTY PLATING LESSON BY CHEF MARCELLO ZACCARIA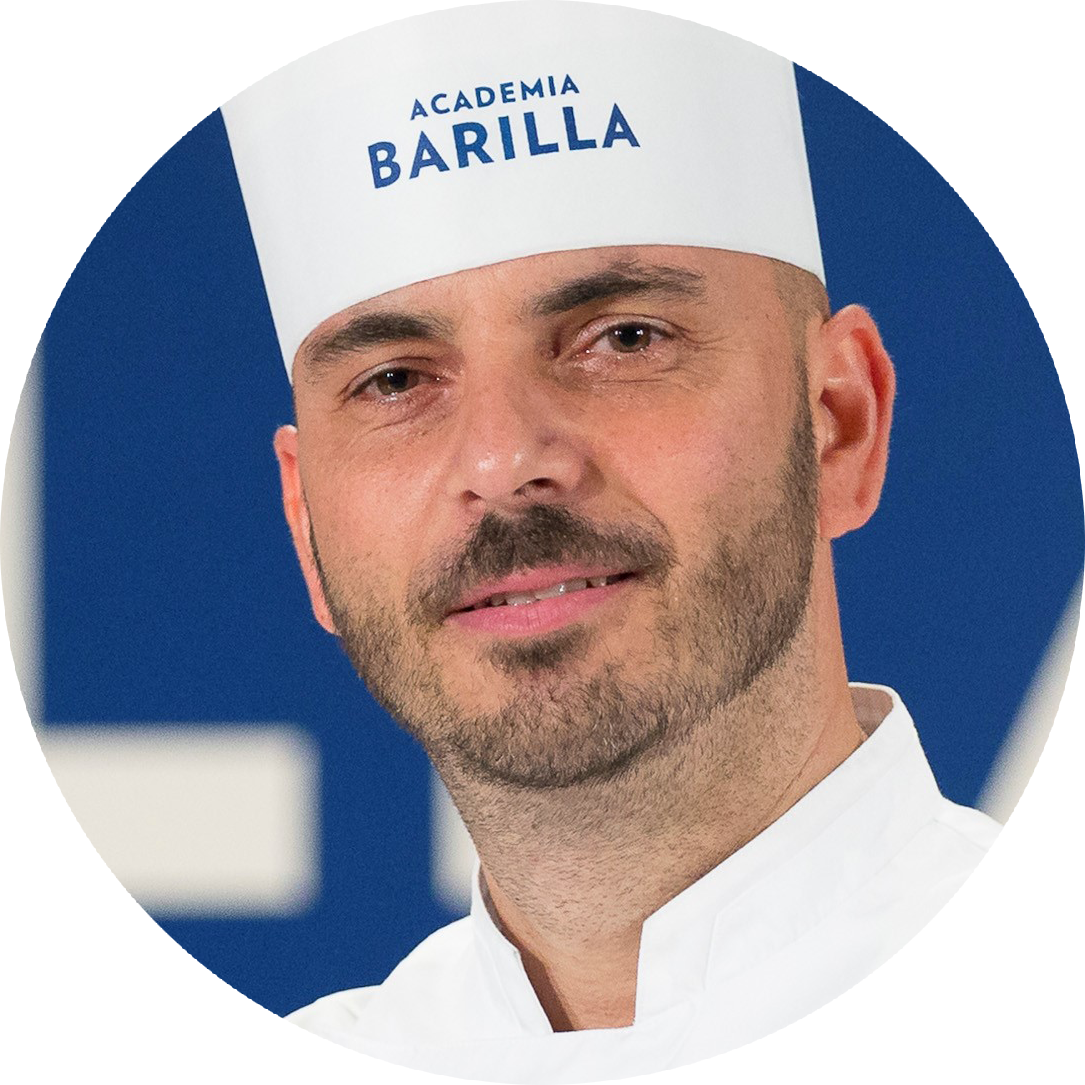 MARCELLO ZACCARIA
Marcello Zaccaria has been working as a Chef for Barilla Group since 2001. His career includes extensive experience in Italian and foreign restaurants, from Tuscany to Switzerland, up to an important position in Japan.
Namely, as part of Academia Barilla he takes care of organising and setting up various activities: cooking courses and product presentations at trade fairs, Gala Dinners and Pasta Parties. A member of the Italian Federation of Chefs, in 2016 he became an international Ambassador of Italian cuisine and in 2018 he joined the panel of the "Superior Taste Award" on behalf of the International Taste & Quality Institute in Brussels.
EGG TAGLIATELLE WITH BEANS OF THREE CONSISTENCIES
CHEF'S TIPS
A recipe that is easy to make, featuring a masterly effect in terms of consistencies gradually revealed with each bite. This tasty variation is created with beans processed on three preparation levels: creamy in a pesto enveloping the tagliatelle, crispy by dehydrating them and whole by sautéing them in a pan.
Tagliatelle were chosen with the aim of using a pasta shape capable of absorbing and blending with the condiments. For the plating, both elegant and refined, the pasta is arranged in the shape of a nest and completed with thyme flowers, which convey an additional scented and personal touch.
The Chef's Tip: to create the shape of a nest and keep it as long as possible before serving you can help yourself with the mould.
Preparation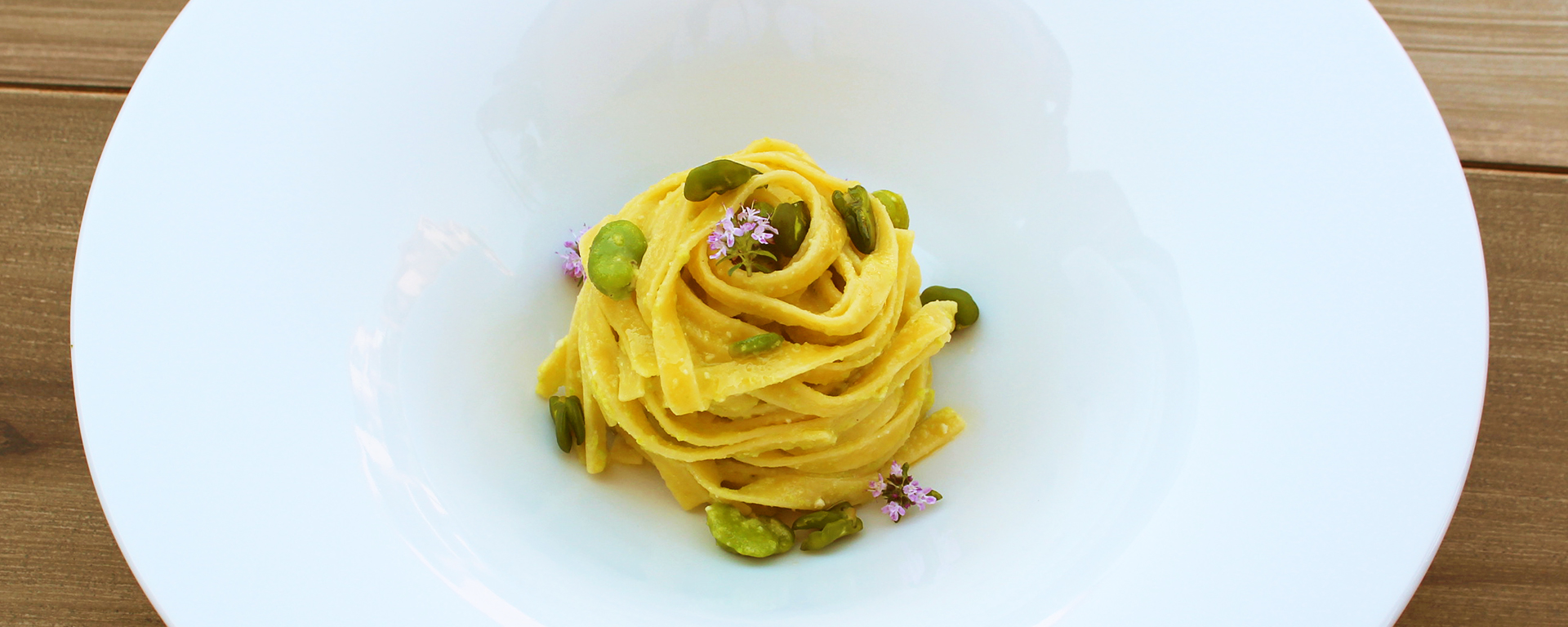 250g Barilla Tagliatelle Emiliane egg pasta
400g broad beans cleaned and without the outer skin
2 shallots
50g extra virgin olive oil
Salt and pepper
For the pesto (as well as the broad beans):
50g grated Parmesan cheese
30g peeled almonds
40g extra virgin olive oil
Salt
For the finish:
Thyme or other edible flowers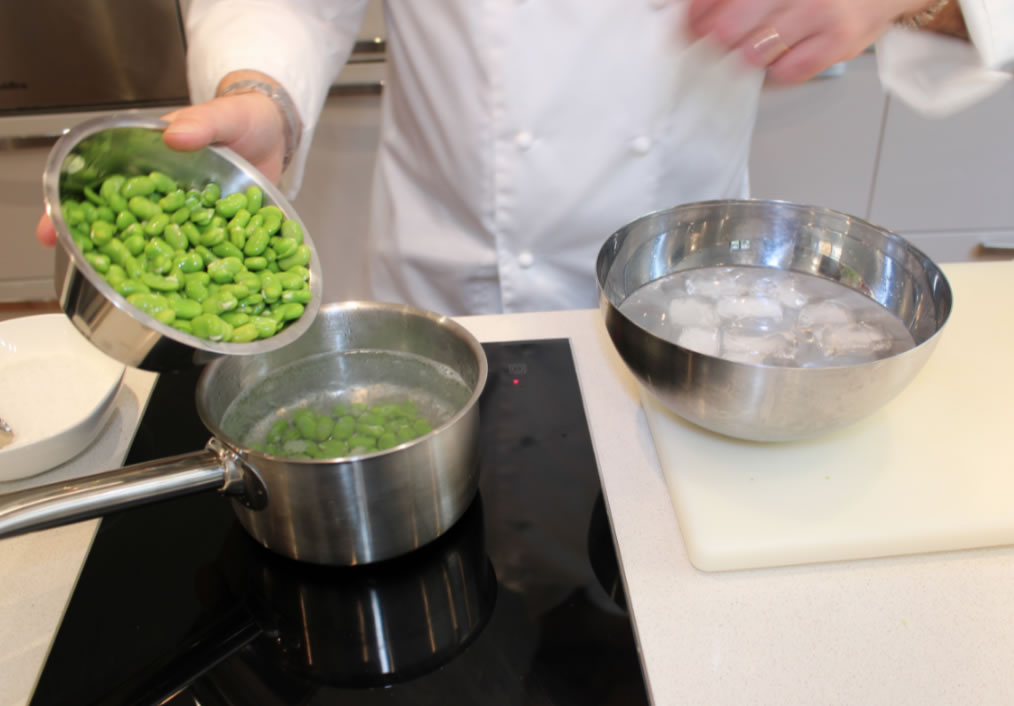 The first step must be carried out with all the broad beans indicated in the ingredients. When using fresh broad beans, remove them from the pod and blanch them in boiling salted water for about 1 minute. While if frozen beans are available, soak them in boiling water for 1 minute immediately after defrosting them. Remove the skin and divide them into three equal parts.

One part will be dehydrated in the oven at about 50°C until completely dehydrated.

A second part will be gently sautéed in a pan with the oil and shallots, adding salt and pepper before cooking the pasta.

The last part will be used to prepare the broad bean Pesto.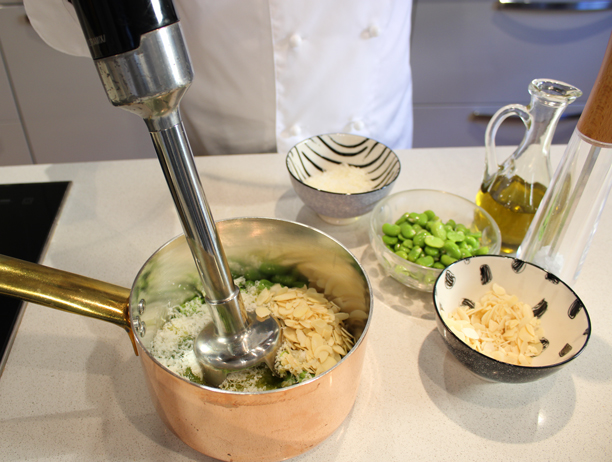 Prepare the broad bean pesto, using 1/3 of the blanched broad beans. Liquidise with the grated Parmesan cheese, the peeled almonds, the extra virgin olive oil and a bit of salt. If it is too thick, add more oil or even some cold water.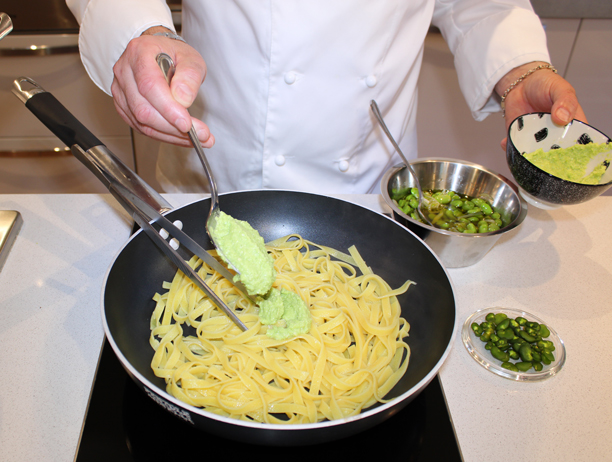 Cook the pasta in plenty of salted water, drain when al dente and season with the broad bean pesto off the heat.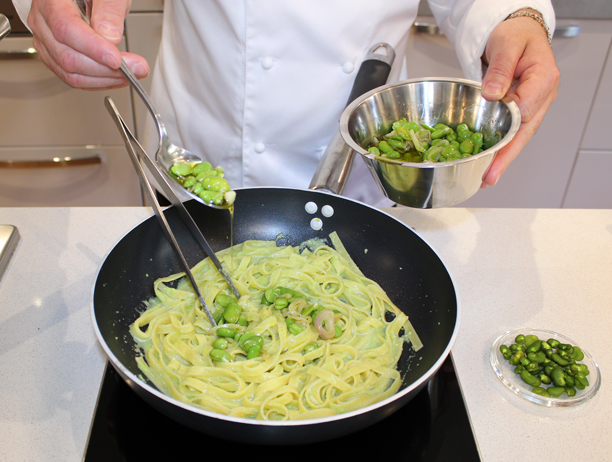 Then add the previously sautéed broad beans.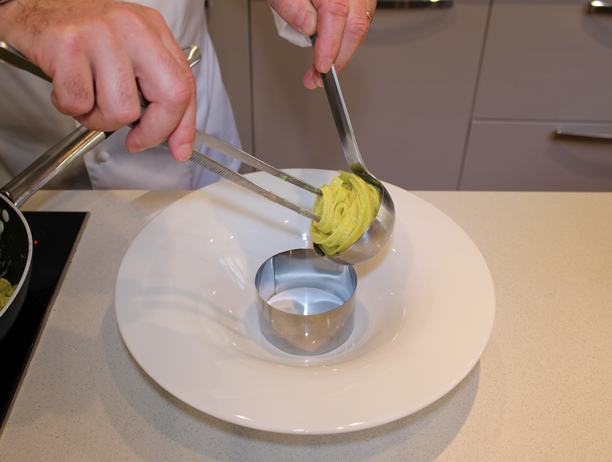 Take a plate and use a pair of tongs and a ladle to create a nest that will be placed at the centre of the plate. For convenience you can use a cylindrical mould and place the nest inside it.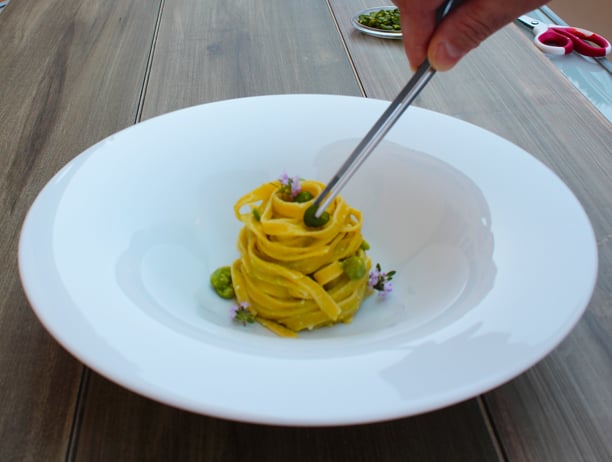 Complete the plating with the dehydrated broad beans, with extra virgin olive oil and finally with thyme flowers or with other types of edible flowers.